20 Apr

Ex VIRTUAL DUKE

A joint computer exercise with the Recce Squadrons of the Regiment and The British Columbia Dragoons was held at 39 Servi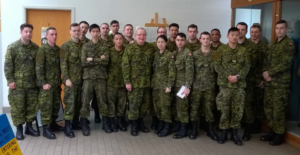 ce Battalion in Richmond on 12/13 March 2016. OC Recce, Major Vince Virk, was the Commander of Ex Virtual Duke. Over 115 soldiers participated in the two day exercise. Sgt Dwayne Snow provided the RSM, CWO Huf Mullick, and the Honorary Colonel, Ted Hawthorne, with a short briefing and tour of the set-up which took up the entire drill square of Colonel Sherman Armoury with an amazing array of electronic equipment shipped from Wainwright.
An Executrek briefing was conducted by LCol Rod Needham, Liaison Officer for Canadian Forces Liaison Council, for employers whose staff members were also present on this exercise. Colonel Needham also conducted a tour of the facility where employers were able to visit with their soldier/staff members in order to see what they do on the Army side. The group was also briefed by the Commander of Ex Virtual Duke, Major Virk, who provided an excellent outline of the objectives of the exercise. SSM MWO Tony Harris also provided practical commentary from an operational perspective. A quick luncheon took place followed by Executrek guests, including Colonel Hawthorne; participating in the computer simulation of a recce exercise (Colonel Hawthorne assumed the gunner position with Cpl Nathan Palmer as crew commander and his employer as driver). A very interesting experience indeed! A final briefing took place by Major Virk and at the conclusion a group photograph was taken of many of our members. It was great to see so many familiar faces on the joint exercise!
The Executrek group returned to the Officers' Mess for a final briefing by Colonel Needham. Colonel Hawthorne, with the 2IC, Major Don Bentley, and Sgt Snow, presented the Commanding Officer's Regimental Coin to the employer representatives present and thanked them for their support of the soldiers and complimented them for taking the time to attend and observe the excellent training their staff members receive in their "other life".